It all started when...
I visited Florence in September 2017. I had a wonderful fresco class in Florence in an art studio right next to the Church of Santa Croce. It all reminds me a chapter from the romantic novel: A Room with a View (1908). When Lucy Honeychurch, first enters the Basilica of Santa Croce, she feels shocked and lost by the stunning art pieces:
And yes we are talking about the frescoes. Fresco Painting is the technique that we associate with large Renaissance murals. It played a vital role to the Renaissance. Now you still can find them in Michelangelo's Sistine Chapel ceiling, Church of Santa Croce, Santa Maria del Carmine, Raphael's Villa Farnesina...
I got so lucky to be a friend with a fresco artist lives in Florence: Emanuele Capozza. He is a Florentine Architect and Painter. I had a fresco class in his lovely studio right next to the Basilica of Santa Croce. In this class, my teacher has explained the history of fresco, also taught me how to use the linear perspective, shadows and light, emotions, etc in the painting. We also had a conversation about the difference between the Art in Berlin and Florence. I'd rather say it's a pleasant art meeting with friends!
Introducing my friend and teacher - Florentine Architect and Painter: Emanuele Capozza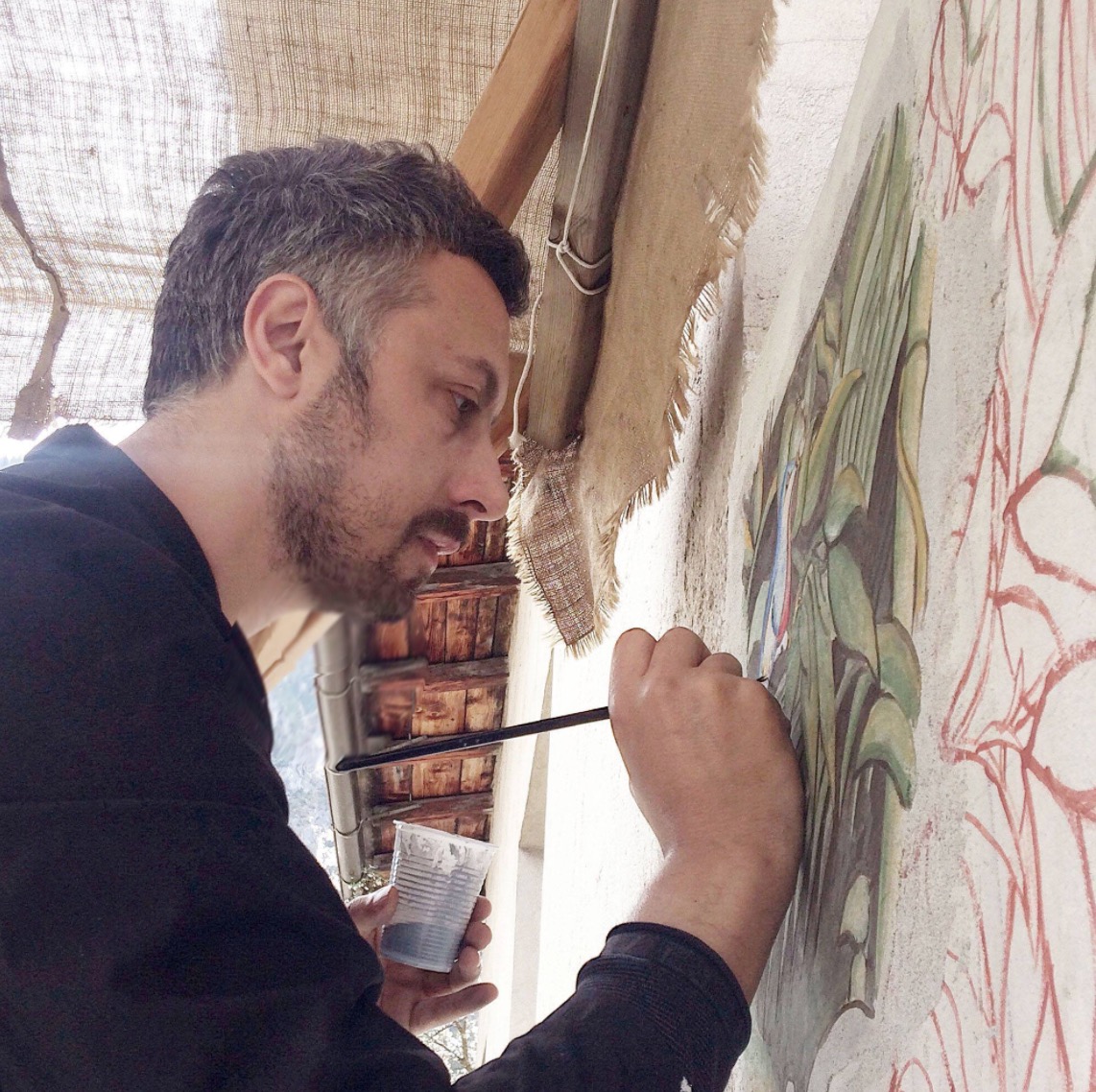 Started painting career in 2006 discovering material painting and experimenting with plaster and pigments. Approached to Fresco Technique in 2010. Now he is a member of International School of Fresco Technique. Since then he has collaborated in many projects and workshop all around Europe.
Exibition
2016_Generazioni, Palazzo Panciatichi, Firenze.
2013_Imperfezione è bellezza, Villa Vogel, Firenze.
2013_Tra sogno e realtà, inverno russo come un vecchio amico, Mosca.
2012_Galleria d'Arte Frosecchi, Firenze.
2011_ Esposizione personale, Lecce.
2010_Festa delle idee Euro-mediterranee, Perugia.
2007_Galleria d'Arte Conemporary Art, Roma.
2006_Oltre l'Arte, Cripta di Santa Croce, Firenze.
2006_Gruppo Donatello, Firenze.
2005_Spazio per l'Arte, Roma.
2005_Art Studio, Roma.
Happy Host is honored to collaborate with Emanuele Capozza. We always believe the spirit of Renaissance is quite similar as the tech innovation - Humanism. It states that humans are of central importance. And human could change the world to make it a better place.
If you want to do any cooperation with our fresco artist, please contact me now! I would like to promote this great art all around the world!
Last but not least. Thank you my teacher: Emanuele Capozza! You are a great teacher with a warm heart!